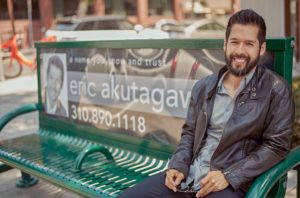 Eric Akutagawa specializes in representing single and multi-family properties on the entire Westside, ranging from Santa Monica to Silverlake. A consummate professional with a sterling reputation, Eric has amassed more than 15 years of comprehensive real estate experience.  His clients include an array of business professionals, first time homebuyers, the family next door, and real estate investors. They value his "one client at a time" approach, which allows for the utmost in personal service.  They also appreciate his calm demeanor, his exemplary negotiation and communications skills, as well as his painstaking attention to detail. Furthermore, he is always up-to-date with the latest technologies, giving his clients buyers and sellers the ultimate edge in their real estate search, and simplifying transactions.
A Southern California native, Eric graduated from both the University of California Los Angeles and Emperor's College of Traditional Oriental Medicine.  He currently resides in the West Los Angeles area, where his grandparents first took roots in the 1950s.
Eric's List of Do's and Dont's
Do
*Earn you top dollar by correctly analyzing your property's strengths and weaknesses to attain an accurate value
*Determine if http://ericakutagawa.com/casino-card-game-building-empire/ is suitable for you to earn the maximum value possible with no upfront costs or hidden fees
*Guide you step-by-step through the sales process to make it easy and stress-free
*Complimentary gardening or 1-day house painting
*Minimal (or no) open houses
Don't
*No staging, no fixing, no clearing out furniture or garage, and no spending unnecessary $$$
*No games, gimmicks, door knocking, cold calling, and weekly postcards or newsletters
*No dealing with assistants or unknown people in the transaction
*No home visitation or inspection necessary to give you a listing proposal, suggested list price, or net proceeds amount!
Eric Akutagawa's License Status (Department of Consumer Affairs – Bureau of Real Estate)